It's almost Friday and almost the first day of the New Year 2010....doesn't it seem like just yesterday it was nearing 2000 and everyone was worried that the end of time was here. I worked with several folks who had supplies stored up because the world was going into complete shout down....that was 10 yrs ago....my how time flies...speaking of time flying can you believe it is Friday again and time for Get-R-Done Friday over at
ClassyChassy
, so be sure and go by and check out the other great projects and tell Classy thanks for hosting this for us.
I am also linking this to a new Meme that I found out about last week, be sure and check out
D Dzines
....where DeeDee is hosting Artwork Friday. She has some very nice art work to show, stop by and say hi....
Well this week to start the New Year 2010 off right I'm posting the last painting I did in the year 2oo9. Last week on get
Her done Friday
and
Art work Friday
I told about putting off painting Christmas gifts, you can read about it
here
...
Well I had one light left to do, and I finally finished it just in time for Kathy to unwrap Christmas eve. All 3 ladies acted like they really liked them....I hope they did....here are some pictures of the last one..ps..Kathy is a Cow lover, if you can't tell.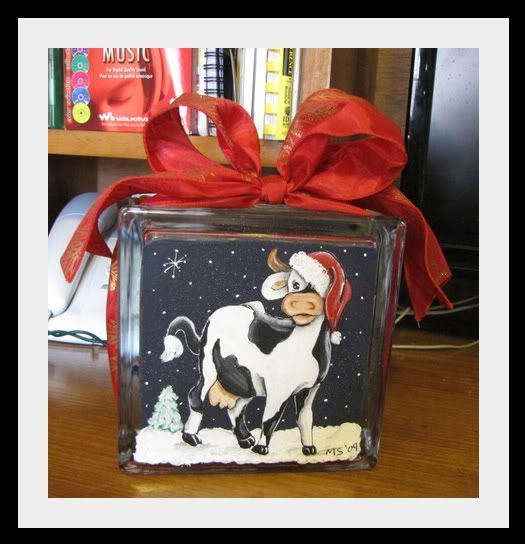 I hope you like my little night lights
My Wish for all my friends is a Blessed New Year and a bright future.